Avtovaz in profit thanks to Russia car scrappage scheme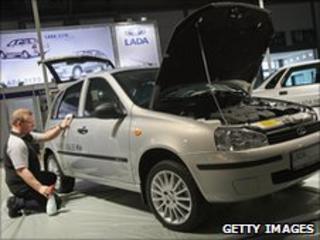 Avtovaz, Russia's leading carmaker, returned to profitability in the April-June period thanks to a Russian car scrappage scheme launched in March.
Avtovaz made a net profit of 1bn roubles ($33m, £21m), as sales doubled in comparison with the first quarter, its president Igor Komarov said.
In the first quarter, the Lada maker's net loss stood at 2.6bn roubles.
Russian Prime Minister Vladimir Putin urged the firm to modernise, rather than rely on the scrappage scheme.
He said that under the scheme, older and cheaper models had been in particular demand.
Avtovaz said earlier this month that its second-quarter sales were 108.2% higher than in the first three months of the year, amounting to 149,100 cars.
More than 40% of the cars were sold under the scrappage scheme.
The company has the capacity to assemble more than 800,000 cars a year.
French carmaker Renault owns a quarter of the Russian company, and Avtovaz intends to use its know-how to build a new budget car.