Chicago assault victim returns home to Northern Ireland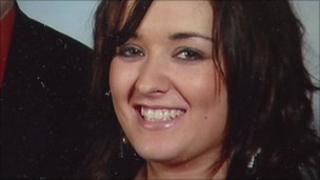 Natasha McShane, the Armagh student who was left in a coma after being beaten with a baseball bat in Chicago, has returned to Northern Ireland.
She was moved to the Royal Victoria Hospital in Belfast last Friday and is said to be making "remarkable progress".
Natasha, 23, from Silverbridge was moved from hospital in Chicago by plane to Dublin and then to Belfast.
She is due to undergo major surgery on her skull later this week.
Her mother and father, Liam and Sheila McShane, and her younger sister, Caitlin, accompanied her on her journey home.
In a statement, her family said: "Encouraged and comforted by her family and friends, we are hopeful that Natasha's progress will soon see her make that final journey back to her home in south Armagh."
The family paid tribute to the people of Chicago and the kindness offered to them.
"Natasha has made significant progress since those dreadful, dark days of April when she was left to die under the viaduct on Damen Avenue," the statement said.
"From her initial days at Illinois Masonic Hospital to her stay at Northwestern Memorial Hospital and then on to her six weeks of rehabilitation at the Rehabilitation Institute of Chicago (RIC), she has bravely endured a long and uncertain journey.
"However, with remarkable courage and spirit, along with state of the art medical treatment and excellent hands-on care, Natasha has achieved remarkable results."
The family said Natasha was now eating and walking with assistance and could say some words.
She can now recognise and hug her family and friends.
But her peripheral vision is impaired and she will need intensive therapy to help her recover speech and understanding.
Doctors have said her final prognosis remains uncertain. The family said Natasha was "just starting out" on her journey to recovery.
They thanked everyone who had helped in any way.
Natasha, a former student at Queen's University, Belfast, and her friend Stacy Jurich, 24, were attacked from behind and struck on the back of their heads by a robber on their way home from a night out on 23 April.
Miss Jurich was released from hospital shortly after the assault.
Heriberto Viramontes, 31, and his alleged accomplice, Marcy Cruz, 25, have been charged with attempted murder, aggravated battery and other charges.
Natasha McShane did her primary degree at Queen's University, Belfast before going on to do a postgraduate course at University College, Dublin.
Since January, she had been on an exchange programme, studying urban planning at the University of Illinois.