Bruce Forsyth's 'regret' over TV game show tally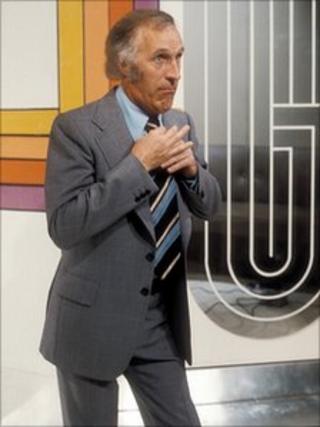 Strictly Come Dancing host Bruce Forsyth has said he regrets doing so many TV game shows, branding them "money for old rope".
The 82-year-old's 50-year TV career includes popular shows like Play Your Cards Right, The Generation Game and Bruce's Price Is Right.
But he described himself as the "laziest person in the world".
He told the Radio Times that game shows allowed him to spend more time with his wife, Wilnelia.
Pay cut
"I regret doing so many game shows, but I started when I met Wilnelia, and we love spending time together," the veteran entertainer said.
"You can do a series in two weeks. Then take as much time off as you like. Money for old rope. People don't understand I can be the laziest person in the world.
"In Puerto Rico I eat well, and lounge in the shade on the beach reading lots of books, mostly courtroom dramas."
Forsyth also revealed he took a pay cut last year as the BBC - which has come under fire over stars' pay - is moving towards greater transparency over the issue.
He said: "I've never discussed it, but I took a cut last year, before anyone else. If they want me to this year I will, but I've never thought about it.
"The BBC won't disclose individual salaries. The last thing you want is people being competitive about them."