Sir Alan Budd denies OBR faced political interference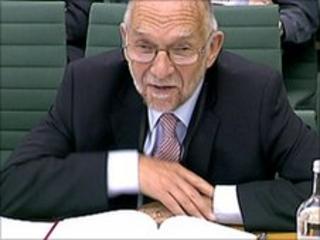 The head of Britain's Office for Budget Responsibility (OBR) has rejected criticism it is not independent from the coalition government.
Sir Alan Budd, facing claims the OBR watered down a report into the impact of budget deficit cuts, said there was "no conspiracy" to change the numbers.
He told the Treasury Committee that he regretted any reputational damage done to the OBR over the affair.
The OBR was set up to end political meddling in official forecasting.
But it faced accusations that it altered job loss forecasts to help ministers to put a more positive gloss on spending cuts.
Sir Alan told the committee: "There was no conspiracy or pressure on us to change the numbers and no pressure on us to bring forward publication."
Mud
Sir Alan is standing down as the OBR's head, although it was always intended he would be an interim chairman to help the organisation get established.
He told the committee that it would be a shame if "any of the mud thrown at me stuck to the OBR, because its creation is a brilliant and innovative move".
Earlier on Monday, Sir Alan, a highly respected economist, wrote to the Chancellor, George Osborne, setting out a list of recommendations for the OBR.
These included relocating the OBR outside the Treasury and staffing it with more outside experts and civil servants on secondment.
Doubts
In the letter, Sir Alan wrote that "without reservation, there was no ministerial involvement in the forecasts at any stage".
"However, the fact that we were operating in the Treasury and relying on official resources has raised doubts about our independence in some quarters," he said.
Sir Alan continued: "It will inevitably take time to settle in, but I am confident that the OBR will play a substantial part in enhancing the quality of fiscal policy-making."
The formation of the fiscal watchdog by the government was widely welcomed, though there was criticism that it was created in haste.
The organisation was accused of giving Prime Minister David Cameron access to some of its figures ahead of time, allowing him to wrongfoot the opposition in Parliament.
There were also raised eyebrows that media inquiries to the OBR were handled by the Treasury.
Double-dip recession?
OBR member Geoffrey Dicks was asked by the committee whether the economy could slip back into recession. Following the Budget, the OBR revised its growth forecasts.
Mr Dicks said: "There are some budget measures which will have reduced demand.
"We've taken half a percentage point off GDP. The near term outlook for GDP is not as good as it was before the Budget.
"I still don't think that will mean a double-dip, but logically the chances of that happening have increased."
Sir Alan said that the revised forecasts included the possibility of a double-dip, but he added that "they also include a stronger recovery".