Burberry sees robust sales growth in last three months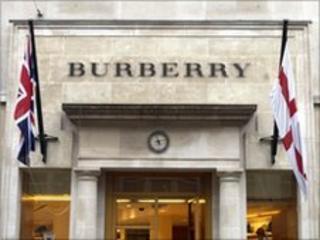 British luxury goods store Burberry enjoyed 24% underlying revenue growth in the first quarter of the tax year.
The company benefited from its growing presence outside Europe.
Revenues were up 30% in Asia-Pacific and 26% in the Americas, but in Europe they rose only 20% from a year ago.
"We plan to open between 20 and 30 stores in the current financial year, predominantly in the Americas and Asia Pacific," said Burberry chief executive Angela Ahrendts.
The results are based on the underlying performance, which excludes the effect of exchange rate changes.
With the pound having weakened against most currencies over the last year, the actual year-on-year growth in revenues calculated in sterling was even higher.
They also exclude earnings from the UK retailer's operations in Spain, which are currently being restructured.
In the 2008-09 financial year, Burberry reported a loss, despite experiencing respectable sales growth during the recession, because of one-off writedowns in the value of its Spanish assets.