Fiji's expulsion of Australia envoy "of grave concern"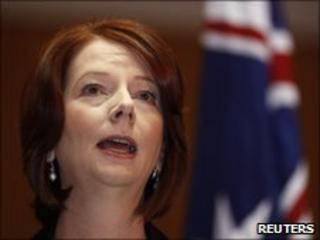 Australian Prime Minister Julia Gillard has called Fiji's expulsion of Australia's top diplomat "uncalled for and of grave concern".
Fiji's military rulers have given Australia's acting high commissioner, Sarah Roberts, 24 hours to leave.
Canberra has strongly criticised Fiji's military regime, which came to power in a 2006 coup and has since imposed a series of repressive measures.
The two sides expelled each other's most senior envoys late last year.
"Obviously our attitude to this is we are gravely concerned that Fiji continues to take itself beyond and outside the workings of the international community," Ms Gillard told reporters in Canberra.
"We will be making very, very clear to Fiji our protest about this unreasonable and uncalled for action."
Earlier, Foreign Minister Stephen Smith said the decision to expel Ms Roberts was "unjustified and unjustifiable".
But he promised not to dismiss Fiji's remaining senior diplomat in Australia.
Summit wrangles
It is unclear why Fiji took the latest action, but Mr Smith said Suva was angry with Canberra because of disagreements over scheduled meetings of various Pacific island political groups.
Fiji was suspended from the main regional bloc, the Pacific Islands Forum, at the urging of Australia and New Zealand.
The forum is due to meet next month, but Fiji has convened a meeting of another smaller talking shop, the Melanesian Spearhead Group, next week in a move seen by analysts as an attempt to upstage the forum.
Australia has angered Fiji by lobbying against the Melanesian meeting.
Such spats have been going on since Cmdr Frank Bainimarama came to power in 2006.
Australia and New Zealand have urged Cmdr Bainimarama to return to civilian rule as soon as possible, but he has said elections will not be held before 2014.