Fidel Castro's timely TV interview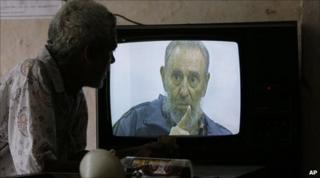 Cuba's former president Fidel Castro made a rare television appearance on Monday night just hours before the first wave of political prisoners were set free and flown to Spain.
He made no mention of the prisoner issue in his 90-minute interview, but few believe that the two events are unconnected.
For an 83-year-old who has undergone a series of major operations in the past four years, Mr Castro appeared relaxed and lucid during his interview on the prime time current affairs discussion programme, Mesa Redonda (Round Table).
Wearing a casual shirt and blue zip-up sports jacket , he looked thin but well, though his voice was raspy at time hoarse.
The theme, though, was vintage Castro: mostly dedicated to criticising the United States which, he claimed, was preparing for another war in the Middle East, this time against Iran.
But it was not what he said so much as the fact that he was fit enough to make a television appearance which captivated audiences here.
Continued influence
"I don't have words to explain how excited I am to see our Comandante still directing and reflecting like before," said Maria Elena Lemus who works as an assistant in a retirement home.
"I thank God and the doctors who have done so much for him."
Ms Lemus's whole family were crammed into her living room to watch Mr Castro on TV. They were joined by neighbours including 48-year-old street cleaner Migdalia Queiple.
"It is important to have him on television, but even more important will be if he can walk again in Old Havana," she said.
"Thanks a million to the doctors who saved Fidel's life."
Fidel Castro has mainly stayed out of the spotlight since July 2006, when ill health forced him to hand over power, at first temporarily, to his younger brother Raul.
He remains head of the Communist Party and continues to make his influence felt through regular newspaper editorials.
International condemnation
But at no point has Fidel made any mention of the dramatic announcement last week that his brother had agreed to release 52 political prisoners, in a deal brokered by the Roman Catholic Church and Spanish diplomats.
The first group of prisoners to be set free were taken to Havana airport on Monday and flown into exile.
All were kept away from reporters.
Omar Ruiz, who had been serving a 12-year sentence for treason, phoned to say that he and six other inmates were driven to Havana airport where they were reunited with their relatives in a special waiting room.
Another prisoner, Jose Luis Garcia Paneque, called from an Air Europa jet as it was taking off for Madrid.
"You can imagine how a man in prison for seven years, including 17 months in solitary, must feel," he said of his new freedom.
Another freed prisoners was aboard an Iberia flight that left Havana about an hour and a half later.
All the dissidents were arrested under a major government crackdown in 2003 when Fidel Castro was still in power.
Raul Castro had faced widespread international condemnation following the death of the jailed dissident hunger striker Orlando Zapata.
The current president will now be hoping that this change of strategy will improve his government's image abroad at a time when he is struggling with the economy and criticism at the slow pace of reform.
It may also signal a power shift within the inner circle.
Pragmatic approach?
The initial policy following Mr Zapata's death was to crack down and tough it out, but this brought further condemnation, particularly at the heavy handed tactics used against a group of prisoners' mothers and wives known as the Ladies in White.
Raul Castro has often been described as a collegiate leader who is prepared to listen to the opinions of those around him.
One western diplomat, who asked to remain anonymous, believes the president initially let the hardliners have their way, but this simply refocused international attention on Cuba's human rights record.
The prisoner releases, he suggests, could mark a shift to a more pragmatic approach, perhaps with the backing of the many military figures that Raul Castro has moved into government.
Now Fidel Castro has taken over the headlines with his TV appearance.
He may only have talked about foreign affairs but it does indicate that he is aware of current affairs and what is going on around him. Not mentioning the prisoner releases could be a message that at least he does not object.