Girl, 15, in Cotswold Water Park lake rescue dies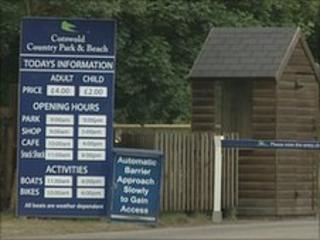 A 15-year-old girl who was rescued from a lake at the Cotswold Water Park in Gloucestershire has died in hospital.
The teenager was pulled from the water by a member of the public on Sunday after getting into difficulties and given CPR by a lifeguard.
Watermark, which manages the park and beach, said she had been in a three-foot deep section of the bathing area when she had slipped under the water.
The girl, from Feltham, south west London, was taken to hospital but died.
In a statement, Watermark said four lifeguards, two off-duty lifeguards and two managers had been on site to deal with the situation.
No helipad
"Three uniformed lifeguards quickly resumed their posts, ensuring the safety of other visitors," it said.
"They decided against a mass evacuation of the bathing area, which would have caused confusion and panic and hampered the arrival of the emergency services.
"Two off-duty lifeguards, who were spending their day off at the beach, also assisted."
"Although there is no helipad at the beach, there was sufficient space for the air ambulance to land.
"We believe the pilot may have taken the decision to land well away from where members of the public might be, in accordance with protocol."