Union 'outraged' at head teacher £200,000 pay package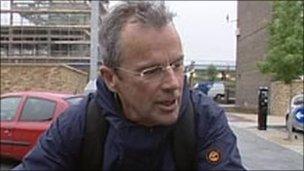 The £200,000 pay package of a primary school head teacher in south London has sparked outrage from trade unions.
Mark Elms, of Tidemill Primary School, Lewisham, received the money in basic salary, back-dated payments and bonuses for a special project.
The GMB union called the payment "outrageous", while the Nasuwt union said too many heads had inflated pay.
Education Secretary Michael Gove wants heads' pay to be capped at the PM's salary of £142,500.
But some parents speaking outside the school said he "deserved every penny".
The top of the pay scale for head teachers working in large London state schools is £109,000, but governors are allowed to offer more to get the right candidate.
According to the GMB union, a total of 11 head teachers in London earn more than £150,000.
Mr Elms, who runs a school of 400 pupils, was paid a basic salary of £82,714 last year.
But he also received in the same year more than £100,000 - £51,957 of which was back-dated pay for 2008/09 - for work on the City Challenge programme introduced by Labour to tackle underachievement in disadvantaged areas.
He was also paid £10,000 in overtime for 2009-10, and a further £9,317 for overtime in 2008/09.
An Ofsted report described the head teacher's leadership as "outstanding".
Ted Purcell, GMB public services officer, said: "It is outrageous that a head teacher in a local community school should earn more money than the prime minister.
"There is a complete lack of accountability when schools are opted out of local authority control.
"GMB want to see all schools being excellent local schools accountable to parents, the community and locally elected politicians."
The GMB represents support staff in schools which have much lower salary levels.
Chris Keates, Nasuwt general secretary, said it had been raising concerns for years about the lack of regulation and scrutiny of the pay of headteachers.
She said: "Whilst the majority have reasonable salaries and do not attempt to exploit the system, too many have secured inflated pay increases and benefits rubber stamped by governing bodies, double payments for doing other work outside their schools and 'bonuses' or 'overtime' which are not permitted under the national pay framework."
Lewisham Council said it had investigated the high pay levels set by the governing body of the school, and had issued them with "formal, confidential advice, which they are now considering".
Mick Brookes, general secretary of the National Association of Head Teachers, said it was irresponsible to conflate the head teacher's yearly salary with the extra payments he received for working on the special project.
He added: "He's made a huge difference to his schools and his community so I would say, 'good luck to him'."
It is thought that about 100 head teachers in England earn more than £150,000, with a handful earning as much as £180,000.
However, with pay being set by school governing bodies, there are no records kept on how many heads earn above the top of their pay scale.
Last week, in a letter to Anne Wright, chairman of the School Teachers' Review Body (STRB), Mr Gove said teachers pay should increase this year by 2.3% in line with previous recommendations.
But he added that he wanted to add an "upper limit to leadership group remuneration" capping discretionary pay at the level of the prime minister's basic salary.
Related Internet Links
The BBC is not responsible for the content of external sites.