US 'disappointed' by Swiss Polanski extradition ruling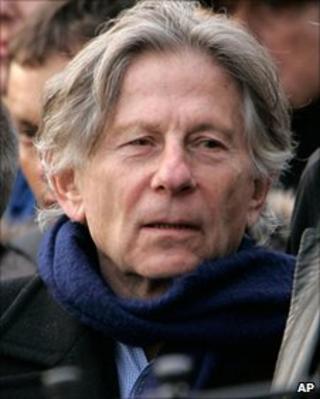 The US has said it is "disappointed" by Switzerland's decision not to extradite the film director, Roman Polanski.
A state department spokesman said it would continue to seek Mr Polanski's arrest and extradition on charges he had sex with an underage girl in 1977.
"We have not forgotten about this case," Philip Crowley told reporters.
The Swiss justice ministry said the US had not made a convincing argument for Polanski's extradition since he was arrested last year and he was now free.
After the ruling, Polanski paid "massive thanks" to his supporters.
"I simply want, from the bottom of my heart, to thank all those who supported me," the Polish-born French filmmaker said in a statement.
He also reportedly left his chalet in the Alpine resort of Gstaad, where he had been held under house arrest for eight months
'Disservice to justice'
On Monday, Swiss Justice Minister Eveline Widmer-Schlumpf announced that "the measures taken to restrict the freedom of Mr Polanski" had been lifted.
"Mr Polanski can now move freely. He's a free man," she said, adding that it was "not about deciding whether he is guilty or not guilty".
The Swiss justice ministry said it was impossible to rule out "a fault in the US extradition request".
The US had failed to disprove Polanski's argument that he fled before sentencing in 1978 because he believed the judge would renege on a plea agreement, it added.
But speaking to reporters in Washington later, State Department spokesman Philip Crowley said the US questioned the decision.
"The rape of a 13-year-old girl by an adult who should know better and does know better is a crime," he said. "We will continue to seek justice in this case and we will evaluate our options."
"We think it sends a very important message regarding how women and girls are treated around the world," he added. "To push this case aside based on technicalities we think is regrettable."
Los Angeles County District Attorney Steve Cooley called the decision a "disservice to justice and other victims as a whole" and said Polanski could be arrested if he travelled to another country.
"To justify their finding to deny extradition on an issue that is unique to California law regarding conditional examination of a potentially unavailable witness is a rejection of the competency of the California courts," he said.
"The Swiss could not have found a smaller hook on which to hang their hat."
Polanski was originally charged with six offences including rape and sodomy over the 1977 case. In 1978, he pleaded guilty to unlawful sex following a plea bargain. He served 42 days in prison.
He has always maintained he was promised a short sentence, but he fled the US after hearing rumours that the judge was about to re-sentence him for a much longer term. He has never returned.
The director was taken into custody in Switzerland in September while collecting a lifetime achievement award at the Zurich Film Festival.
Polanski, whose films include Rosemary's Baby and The Pianist, was moved from prison and placed under house arrest at Gstaad in early December.
Switzerland said the US could not appeal against its decision.