Liam Fox: UK military must keep war-fighting edge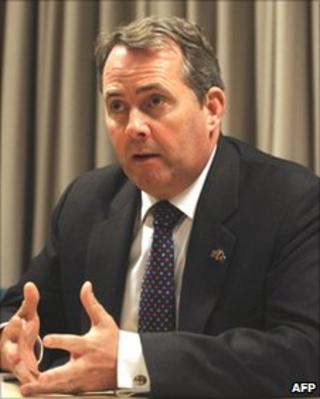 Defence Secretary Liam Fox has argued for the UK having "robust and well-equipped armed forces, capable of intervening abroad whenever necessary".
In a speech to the Chatham House policy think tank in London, he said the military needed a "war-fighting edge".
The government is carrying out a strategic defence review of the shape and size of the UK's armed forces.
Dr Fox said economic conditions were tough but the review would be watched by allies and enemies alike.
He said the UK must not send signals which could be seen as lessening its commitment to engage with the world, or curtail an ability to respond to threats.
'Despicable act'
These could include nuclear rogue states, warlords and pirates, he added.
Dr Fox said the "murder" of three UK soldiers by a rogue member of the Afghanistan armed forces on Tuesday was a "despicable act", but added that such acts would not break the government's resolve.
He told the audience at Chatham House: "Britain must help shape a changing world, rather than merely react to it."
While Foreign Secretary William Hague has emphasised the importance of so-called "soft power", Mr Fox said "hard power" must also be retained.
He argued that the UK must be prepared to defeat any threat if necessary, to accept the risks to personnel and have the self-belief, patience and determination to stay the course.
BBC defence correspondent Jonathan Beale said Dr Fox's language was similar to that he has used to back the mission in Afghanistan.
Spending cuts
He added the speech could be interpreted as a pre-emptive strike by the defence secretary against swingeing Treasury cuts to Ministry of Defence funding.
In his Budget last month, Chancellor George Osborne said departments would face average cuts of 25% when the government's public spending review is completed in October - potentially bigger than anything attempted by a previous UK government.
Health and overseas aid spending will be ring-fenced, while defence and education will face cuts of between 10% and 20%.
The strategic defence review, the first since 1997, will examine what sort of armed forces are needed in future and the cost involved.
Labour has said it backs the review and that "difficult" decisions will be needed.
Outlining the terms of the review in Parliament last month, the defence secretary told MPs that the armed forces should not assume that future wars would be like the current counter-insurgency in Afghanistan.
There could be conflicts over energy and water, new threats from failed states and a nuclear Iran, and the return of state-versus-state conflicts, Dr Fox argued.
There would therefore be a thorough stock-take of current contingency plans, he said.