Sarkozy dismisses 'shameful' Bettencourt donation claim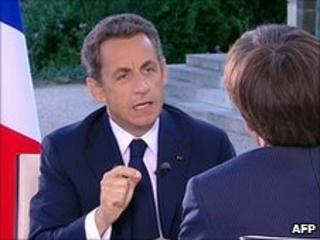 French President Nicolas Sarkozy has dismissed accusations he received illegal donations from the richest woman in France, Liliane Bettencourt.
He called the allegations lies and calumny, and claimed his opponents were trying to destabilise the government as it tried to reform the pension system.
Mr Sarkozy also expressed confidence in Labour Minister Eric Woerth, who is accused of accepting illegal donations.
Both Mr Woerth and Mr Sarkozy deny any wrongdoing, as does Mrs Bettencourt.
Tax inspectors have already cleared Mr Woerth, who was budget minister until March, of shielding the L'Oreal heiress from an audit.
"Things are clear, and it is true that I am relieved, enormously relieved," he told reporters earlier.
'Vital reform'
BBC's Hugh Schofield in Paris says President Sarkozy was at his most combative in the hour-long interview with France 2 television carried live from the Elysee Palace on Monday evening.
He said the allegations were part of a "campaign" to blacken his name and make it harder to pass a contested pension reform plan that has already brought millions of protesters to the streets.
"I was described as someone who for 20 years has been going to Mrs Bettencourt's house to pick up envelopes. It's shameful."
"France is not a corrupt country," he added.
Asked whether he would dismiss Mr Woerth, who is also treasurer of the governing Union for a Popular Movement (UMP), Mr Sarkozy declared: "Eric Woerth is an honest, competent man. He has my full confidence. He is the minister who will defend this vital pensions reform."
But the president said that to avoid any controversy, he had asked Mr Woerth to "devote himself exclusively" to the role and step down as UMP treasurer.
He would also ask parliament to set up a commission to look at guidelines "to avoid all forms of conflict of interest", he added.
Mr Sarkozy said he was determined to see through the pension reforms - which include raising the state retirement age from 60 to 62 and making people contribute longer for a full pension - a key part of his government's pledge to cut France's budget deficit to within EU limits within the next three years.
Socialist Party leader Martine Aubry said the president's comments showed he was not aware of public anger at the scandal, the pension reforms, and at high unemployment and financial insecurity.
"We expected this evening, like the rest of the French people, clarifications and decisions," she said. "We had neither one nor the other."
Apartment searched
The allegations surrounding Mr Sarkozy and Mr Woerth surfaced in connection with a trial over the estimated 17bn-euro fortune of Mrs Bettencourt, 87, whose father founded the cosmetics giant, L'Oreal.
Mrs Bettencourt's daughter Francoise is suing celebrity photographer Francois-Marie Banier, a close friend of her mother's, for allegedly exploiting her mental fragility to gain access to her fortune.
Mr Woerth has also come under scrutiny because his wife worked for the company that managed Mrs Bettencourt's fortune, and their names emerged in tapes secretly recorded by Mrs Bettencourt's butler.
The tapes suggested that Mrs Bettencourt had been making cash donations to members of the UMP including Mr Woerth, and that she had been avoiding taxes.
Mrs Bettencourt's former accountant also accused the minister of accepting an illegal donation of 150,000 euros from her wealth manager, Patrice de Maistre.
Hours before Mr Sarkozy spoke, police searched the Paris apartment of Ms Banier.
Our correspondent says many in France believe that the Bettencourt saga has touched the president at his weakest point - an excessive interest in, and an indulgence of, the very wealthy.