FSA plans to ban self-certified mortgages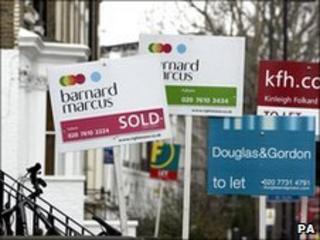 The UK financial watchdog has put forward proposals designed to curb excessive mortgage lending.
The Financial Services Authority (FSA) says it is "adamant" that new rules will include a ban on lending without proof of income.
It says it wants to ensure that lenders lend only to those who can afford it - and that means having knowledge of a borrower's financial situation.
That would, in effect, ban self-certification mortgages.
The FSA says these types of home loans, in which borrowers simply state their income without having to prove it, were still accounting for 43% of all mortgages in the first quarter of this year. It said it wanted to ensure that lenders got "back to the basics of responsible lending".
It wants to prevent people falling into debt through their eagerness to buy a property.
The FSA found that almost half of households either had no money left or had a shortfall after they had paid their monthly mortgage bill and deducted living costs from their income.
It also said the proposed rules would offer extra protection for vulnerable customers with poor credit ratings.
"There is a clear link between financial overstretch and mortgage arrears and repossessions, and we are determined to protect vulnerable consumers by making sure that everyone who takes on a mortgage can afford it," said Lesley Titcomb of the FSA.
Income shortfall
The proposals form part of a review of the UK mortgage market undertaken by the FSA, which has looked at the causes of arrears and repossessions over the past five years.
The share of interest-only mortgages had also been increasing, the watchdog said, with some mortgage holders having no plan on how to repay the capital loan.
The FSA is inviting further comment from industry groups and consumers on its proposals until 16 November this year and will bring in new rules in early 2011- but it has said it is determined that proof of income will form part of these.
It said the cost of any new requirements would be minimal.
BBC News website readers have been getting in touch with their views. Here is a selection.
I understand the reasons for the ban and I do support them - as long as there is an alternative solution for the self-employed. I started my own consultancy business a year ago after being made redundant in the height of the crisis. Many people have followed this path in the last year or two, through no fault of their own. Provisions must made for the ever growing numbers of self-employed people forced into their situation through redundancy, a desire to work and a lack of permanent work available (the ability to provide a set of accounts for example).
Matt J, UK
The FSA seem to think that 'one size fits all'. It could not be further from the truth. I have a mortgage which is about 30% of the property value and have a credit record that reveals that I have NEVER missed ANY payments for the past 30 years. How can they apply the same rules to me as a 23-year-old first time buyer wanting to borrow 80% of the property value. It is ridiculous.
Gary Shields, Lightwater, Surrey
Like tons of other people I'm a contractor, who can't always provide the requisite financial proof that banks ask for, because the banks take your income on what is declared to the taxman. They don't understand the modern economy, as they have demonstrated in some style over the last few years. Dumping self-cert mortgages is pretty stupid really. The reality is that contracting is a lifestyle choice where you get paid more, but ideally don't work day in and day out - or year in and year out and watch your life drain away with trips to the office! So... self-cert is the answer. This life doesn't make you a bad risk though. Last year I took three months off knowing full well I can make it up later... but that ruined my mortgage application with every bank I spoke to, even though the underwriters who supply the banks are actually fine with it, as it turns out. The solution would be to make self-cert mortgages more like a job application - ie have you got skills the market wants, and only available for a high level of deposit, eg 40%, to reduce risk... and demand clear sight of future earnings eg a three month contract.
Simon, London
I'm a self-employed engineer, so perhaps the removal of these would be a bad thing for me. But looking at the bigger picture why are 43% of new mortgages self-cert when self-employment accounts for only 13% of total UK employment? Surely most people have regular jobs and are on PAYE? So why are some of these people taking self-cert loans?? The only reason I can think of is to lie about how much they earn! This is SERIOUS if you think about it. How many people have used these loans so they could fake their income?
Richard Barnett, Staffordshire
The ending of self-certification will impact mostly upon the 13% of the workforce who are self-employed. Their published accounts cannot give an accurate, current picture of disposable income. They also tend to take full advantage of tax avoidance accounting in order to minimise tax liabilities, which leaves them disadvantaged in the mortgage stakes. That said, I think that self-certification was a significant contributor to the sub-prime lending crisis and it therefore can't have a future in the new era. But the FSA should look at new ways to assess the credit worthiness of the self-employed, possibly by reviewing bank statements over a 12 month period.
Simon Chapman, Reading Berkshire
The FSA rules are stupid beyond belief. Those lending should be happy with the lending, nothing more, nothing less. If they talk to me, look at what I do, look at the paperwork, see they are happy, that should be enough. What they should do above all is treat me as an individual. I have so far had and paid in full four mortgages, that implies that I might be a reasonable "bet" in the future. What we need to do is go back to the old fashioned bank manager that knew his customers instead of the "computer says..." approach we have now. This applies to far more than mortgages.
Dave, Mildenhall
I've had self-certified mortgages for 28 years. I've never missed a payment and have an excellent credit rating but under the proposed rules I'd never be able to afford to buy the sort of home I now own (a modest, rural three bedroom house but with a little land). This new government claims to want to remove itself from undue involvement in people's lives. If I choose to work hard and spend my money living in the house I choose, why should I be prevented from doing so? I don't buy new cars or travel abroad on expensive holidays but take pleasure in growing produce and rearing livestock to feed my family. Why should this kind of lifestyle choice be denied to people, my late-teen children included, simply because regulators believe that they know what's best for us?
Charles Preston, Chipping Norton
I arranged my current mortgage on a self-cert basis. My wife and I have a combined gross annual income of £90k resulting in a combined net monthly income of £4800. Our current mortgage of £420,000 costs us £1700 per month. This is about a 1/3rd of our income and comfortably manageable. I would not have been able to get my mortgage using a standard 3.5 times income calculation as we would have needed to earn £120k. This would have forced us to rent, where the equivalent property would have cost us around £2,200 per month. As long as somebody can prove the affordability and has a reasonable deposit (25% plus) I don't see the problem. The mess we are in is because people were allowed to self-cert with virtually no deposit and a poor credit history.
Sam, Surrey
I am self-employed and used to have self-cert mortgages. I had to, my income is so unpredictable and up and down that no three consecutive years of accounts would allow me to get a standard mortgage. I know a lot of others in similar circumstances who will suddenly find themselves unable to meet the new criteria and will be forced to sell and move into rented accommodation. Self-cert was wrong but necessary for many to get onto a housing ladder with prices artificially inflated by the mortgage companies themselves. We will be the ones paying for their luxury lifestyles.
Leo Hartas, Tiverton, Somerset