New charges against jailed Sri Lankan General Fonseka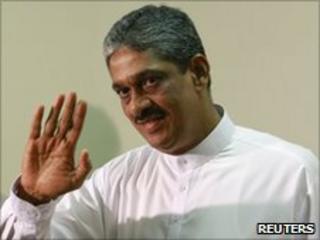 Jailed former Sri Lankan armed forces chief Gen Sarath Fonseka has been charged in two new cases in the civilian courts.
Gen Fonseka already has one other civilian and two military cases pending against him.
In one of the new cases he is accused of recruiting army deserters to help him in his failed presidential election campaign in January.
Reports say this charge carries a possible 20-year prison sentence.
The state has also pressed 21 new charges against Gen Fonseka in relation to another case, in which he is accused of corruption in granting arms procurement contracts while he was army commander.
The authorities say that Gen Fonseka's son-in-law was also involved, but his whereabouts are unknown.
The former army chief lost in his bid to oust President Mahinda Rajapaksa and was dragged into detention, where he remains.
He can leave jail under military escort to attend parliament, as he was elected as an MP in April.
But the authorities clearly do not want him to go free, given that he now faces a total of three trials in civilian courts and two in military ones.
Officials have publicly accused Gen Fonseka of plotting coups and killings.
Irony
They are especially furious at an interview in which he quoted third-party reports which accused the Sri Lankan defence secretary of war crimes.
One of the civilian court cases is centred around this interview.
Many Sri Lankans are struck by an irony: Gen Fonseka, who commanded the army in its war victory, now appears to be the state's most hated enemy - while there are reports that the most senior Tamil Tiger leader in detention, Selvarasa Pathmanathan, has struck up a good rapport with the defence secretary and is helping to rehabilitate northern Sri Lanka.
The latest cases have been adjourned till 26 July.