Offenders help clean up graffiti from adventure centre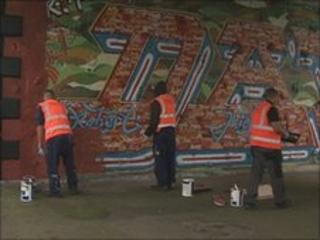 A team of offenders are giving an outdoor centre in Nottingham a makeover as part of a rehabilitation scheme.
Five offenders will work for three days alongside graffiti-removal specialists, saving the council about £5,000.
The Community Payback team is painting and removing graffiti from the Arches Adventure Base and Lady Bay Bridge.
"I wouldn't choose to do this of my own choice but it is a case of having to," Dale, who was caught driving while disqualified, said.
"At least we are giving back to the community and we are doing something positive so it ain't too bad."
Judges can give community payback as part of a community sentence. Offenders must wear bright orange high-visibility Community Payback jackets while working.
The work is part of a county council project to improve the appearance of one of the major city gateways.
"The Arches clearance is one of many recent visible projects that offenders on Community Payback orders have been involved in," said Jackie Metcalf, Senior Community Payback Officer.
The bridge will be coated with anti-graffiti varnish which will make it harder for vandals to damage the paintwork.