New rules on post-traumatic stress benefits aid US vets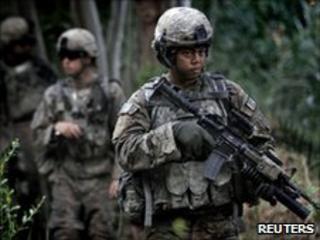 The US government has announced new rules that will make it easier for US veterans to receive federal benefits for post traumatic stress disorder.
Changes to the claims process process mean veterans no longer have to prove exactly what caused their PTSD.
They will simply have to demonstrate that the conditions of their service contributed to the illness.
President Obama has called the move "a long overdue step." Research suggests 300,000 vets may have PTSD symptoms.
"It's a step that proves America will always be here for our veterans, just as they've been there for us. We won't let them down. We take care of our own," Mr Obama said in his weekly address to the nation on Saturday.
A study by the Rand Corporation estimates that nearly 20 percent of veterans show signs of either PTSD or depression.
Veterans groups have applauded the new streamlined process to deal with PTSD, which will apply to veterans of any conflict.
"This change removes a key bureaucratic obstacle to care and will go a long way toward helping men and women coming home from Iraq and Afghanistan with invisible wounds," said Paul Rieckhoff, executive director of Iraq and Afghanistan Veterans of America (IAVA), an advocacy group.
But in a statement, IAVA also notes that almost of half of the veterans of Iraq and Afghanistan still don't access the services of the Veteran's Administration.
They urge the president to do more to ensure that veteran "health and safety are a national priority".