Gove challenged by MPs over scrapped school plans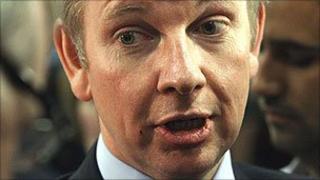 Education Secretary Michael Gove has faced tough questions from MPs over his scrapping of school rebuilding plans in local authorities across England.
Shadow Education Secretary Ed Balls pressed Mr Gove on whether he had been given advice to delay publishing a list which later proved to be incorrect.
Mr Gove did not respond to this direct challenge - but attacked the record of the previous administration.
A fifth version of the list of school building plans has now been published.
Mr Gove faced challenges from MPs from all parties - with questions about how Mr Gove had made his decisions over scrapping more than 700 school rebuilding projects.
Leaking roof
Conservative MP Patrick Mercer described a school where: "When it rains heavily in this school the children have to stop being taught in order to hold buckets under the leaking roof."
In questions in the House of Commons, Mr Balls attacked the "arbitrary and chaotic" process by which schools were told whether their rebuilding plans were going to be protected or scrapped.
Mr Gove defended his decision to stop the school rebuilding programme.
"Everyone involved in this process said to me: 'Make sure that you ensure that this faltering and failing project ends'," he told MPs.
Last week's announcement of the cancelling of the Building Schools for the Future programme was followed by the discovery that the list showing the fate of school projects contained a number of errors.
This included schools in Sandwell believing their building plans had been protected - only to be told that they had been cancelled.
Sandwell's council leader, Darren Cooper, has claimed there has been further "disappointment" - as he says Mr Gove's proposed visit to school leaders in the area will not now take place before the end of term.
Mr Gove had to apologise to the House of Commons and to local authority leaders for the confusion his statement caused.
On Monday Mr Gove faced further challenges over the handling of the axing of the building projects.
Mr Balls pushed for answers on whether Mr Gove had been told by any of his officials not to press ahead with publishing information that subsequently proved to contain inaccuracies.
"Did you at any point receive written or oral advice from departmental officials or Partnerships for Schools urging you not to publish a list of schools until after you had consulted local authorities, to make sure your criteria were sound and your facts were right?" said Mr Balls.
He also asked Mr Gove for a direct answer on whether there had been warnings over the risk of compensation claims from businesses which had won contracts to rebuild schools.
Mr Gove did not address these questions, but responded by attacking the record of the previous Labour government.
"I inherited a mess from you and we are clearing it up," said Mr Gove.
A spokesman for Mr Gove later said that no officials had recommended a delay in publishing his list of cancelled projects: "There was no official advice against this course of action."
Compensation
Following the debate, a senior Liberal Democrat MP, Mike Hancock, remained unconvinced.
The Portsmouth South MP says the government should refund the costs of local authorities which have had school projects cancelled.
"The government has ripped us off," he says.
Nottingham City Council is considering taking legal action over the government's decision to cancel school building plans.
There have been suggestions that some construction companies might take legal action over the cancellation of projects.
Noble Francis, economist at the Construction Products Association, says construction companies want to end the confusion about what is going to happen to the school building programme.
He said there needed to be clarification about how specific decisions were reached - with estimates that building firms had "wasted" £100m in winning bids that have now been cancelled.
Mr Francis says that the industry expects an overall loss of £39bn from the scrapping of the scheme.