Hospital sued for broken toe death in Stockport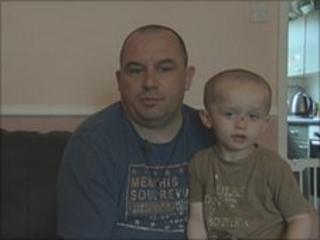 A father-of-two is suing a Greater Manchester hospital after his wife died from a blood clot following a routine operation for a broken toe.
Deborah Bowden collapsed and died in front of her family in September 2009.
She was promised a post-op appointment at Stepping Hill Hospital within two weeks but it failed to arrive.
The hospital said there was "no evidence" to suggest a follow-up appointment would have prevented Mrs Bowden's death.
But it said that as a "direct result of this case" follow-up clinics have "extra capacity".
An inquest into the 39-year-old's death was held last Tuesday in which Coroner John Pollard recorded a verdict of accidental death but criticised the hospital's appointments system.
The hearing was told that Mrs Bowden, 39, from Stockport, died from a clot, which developed in her right leg and burst in her lungs. There was no evidence to suggest her death could have been prevented.
Mr Bowden, 40, however, blames the hospital in Stockport saying that a follow-up appointment could have saved his wife.
'Too late'
"The hospital has totally failed us, these post-operative appointments are there to ensure nothing has gone wrong," he said.
"She had called and called to try to get an appointment sorted but to no avail. They eventually agreed to see her three weeks after the operation - but by then it was too late."
He told the BBC that his wife felt ill shortly after the operation but was told by her GP it was just a chest infection.
As Mr Bowden and their two young children were on the way to dropping her off at work she suddenly passed out.
"We stopped and managed to bring her round, she seemed OK again. As I continued driving we decided to go to Stepping Hill hospital so she could be checked out.
"But then she slumped forward again and began to shake violently. I rang for an ambulance and managed to get my wife out of the car."
Mr Bowden tried to resuscitate his wife, but she died.
The Stockport NHS Foundation Trust, which manages Stepping Hill, said: "We send our sincere condolences to the family of Deborah Bowden.
"We have carried out a thorough review of the circumstances of this case, particularly with regards to the system for follow-up appointments.
"The coroner ruled that there was no evidence to prove that having a follow-up appointment would have prevented Mrs Bowden's unfortunate death."