Chatham kart challenge in memory of Henry Surtees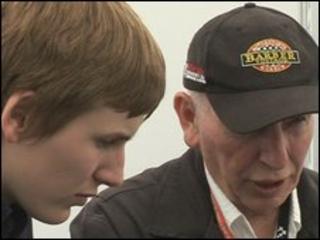 Former F1 world champion John Surtees has organised a charity event in Kent in memory of his son who died in a crash during a Formula Two race.
A total of 35 teams took part in Henry's Headway Karting Challenge at Buckmore Park circuit, Chatham, where Henry Surtees began driving as a child.
Mr Surtees, 18, died in a crash during a Formula Two race at Brands Hatch last July.
It is hoped Monday's challenge will raise £60,000 for the charity Headway.
Boxing promoter and former world featherweight champion, Barry McGuigan, was among those supporting the charity, which helps people with brain injuries.
Teams were made up of professional drivers and amateurs.
An auction of memorabilia donated by the motor racing world was also held.
'Delightful young man'
John Surtees, who lives in Lingfield, Surrey, said: "Nothing can bring Henry back.
"But we have all the memories as a family of the 18 years and five months through which we saw Henry develop through childhood, to testing a kart through to a delightful young man who took his education seriously, and his racing even more so.
"The Henry Surtees Foundation will, however, live on.
"Apart from helping with projects like Headway, it will also look at trying to give more young people opportunities to participate in learning and training programmes associated with motorsport."
Buckmore Park is to hold another competition kart race in memory of Henry Surtees on 18 July, when his father will rename a bend on the circuit "Henry's Bend".
Mr Surtees had just finished his A-levels at Worth School, West Sussex, when he died.
A group of students from the school completed a cross-Channel swim in his memory last month.