Uruguay football team get heroes' welcome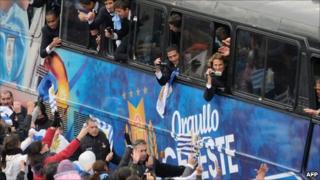 They may have finished fourth in the football World Cup but that was enough for Uruguay's national side to be given a champion's homecoming.
Hundreds of thousands of Uruguayans followed and cheered the team in a long motorcade as they paraded along the sea promenade of the capital city, Montevideo, on Tuesday.
The players waved to the crowd from the bus, holding flags, some of them filming on their own camcorders to cherish this moment forever.
On the sides of the bus, a large banner summed up the nation's feeling: "Orgullo celeste", Spanish for "Light blue pride", referring to the colour of Uruguay's shirt.
"Thank you, champions! You gave us our pride back!" read one of the hundreds of banners that flanked the squad's 30km-long parade.
Because of the crowds, it took the bus over four hours to travel from the training compound to the Congress, where thousands were waiting.
The squad, managed by Oscar Tabarez, exceeded all expectations and clinched the country's best finish at a World Cup finals since 1970.
Celebrations were massive after each win and even after being beaten by Germany in the third-place match, as Uruguayans felt their team did their best anyway.
"We were a surprise in this World Cup and many people in Uruguay see defeat differently than they did before, after this tournament," Mr Tabarez told foreign journalists in South Africa, as he explained why such a welcome party was being planned to celebrate their fourth place.
For sociologist Rafael Bayce the squad's performance reinforced Uruguayans' sense of identity and even changed their approach to football as a whole.
"As a small country that did not fight in the world wars, did not suffer civil wars or natural disasters of any kind, football has been its only way to be globally known, for its two Olympic victories in 1924 and 1928 and for being twice World Cup champion in 1930 and 1950," he told the BBC.
That national pride had been fading as, over the second half of the 20th Century, Uruguay failed to shine on the world scene, even missing some of the World Cups, like in 1998 and 2006.
Football tradition
Captain Diego Lugano said he was surprised to see so many people taking part in the celebrations.
"Back in South Africa we were told people were happy but we could never imagine this. It exceeds what we deserve. We have just done what football players do in this country, give their lives for their squad," he said standing on a podium outside Congress.
Some of the players received a special tribute.
"We have someone amazing. He was criticised by those who don't know much about football. Those who do know, understand that he played by the rules," said Sebastian Abreu of his teammate, Luis Suarez.
His controversial handball preventing a goal at the last minute of the quarter-finals match against Ghana made him a hero at home and a villain in South Africa and Europe.
The crowd gave him a massive ovation.
But the biggest recognition was left for the World Cup's best player, Diego Forlan.
"We are so proud of him," said Abreu, while hundreds of thousands cheered the first Uruguayan to be awarded the World Cup Golden Boot.
"He is the best, and so humble. After scoring his last goal he didn't take full credit. Instead, he went and hugged and thanked Egidio Arevalo for passing him the ball," football fan Lucero Mekle told the BBC.
Born into a traditional Uruguayan football family (both his father and his maternal grandfather played for the national team), Forlan arrived at the top of world football at a very young age.
After a disappointing European start at Manchester United, his light started to shine when he played for Villarreal in Spain.
Now with Atletico Madrid, the striker has twice been top scorer in Spanish and European football.
Forlan, talking to the crowd, said that it was the whole team who led him to the Golden Boot.
Uruguayan President Jose Mujica and Vice-President Danilo Astori closed the warm ceremony awarding medals to the 23 players, the manager, and the whole crew that went with the squad to South Africa.
Even the team chef got one.