Tarmac fears over Snowdonia mountain paths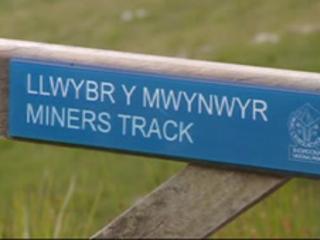 Fears that Snowdonia's mountain paths will be resurfaced with tarmac have been raised with the Snowdonia National park by a tourism body.
Betws y Coed tourist association said it follows the use of tarmac on part of one of the paths, the Miners' track.
The group said the work was a "slippery slope" to creating an asphalt-covered path all the way to the summit.
But the park denied that it planned to tarmac paths to the summit.
It said the small section which had been tarmaced was done as part of its access for all policy.
Bernard Owen, a board member with the tourism association, said: "This is not good news, and once they start it is a slippery slope."
He added that no asphalt should be used on paths on the mountain.
"No tarmac should go anywhere near that track... they could use slate to fill potholes," he said.
Guest-house owner Mr Owen said that anyone with access problems could use the train to get up Snowdon.
There are special wheelchair friendly trains, and the new Hafod Eryri building at the top was also accessible, he said.
"Where will it end, will there be a footpath covered in tarmac all the way to the top?" he said.
Around 50,000 people visited the Betws y Coed area each year, with 75% wanting to go up Snowdon, he said.
But the Snowdonia National Park chairman Caerwyn Roberts said that consultation had taken place - with groups representing disabled users.
He said critics had misunderstood what was being done, as there was no way the park would support a move to create a hard surface footpath to the peak of Snowdon.
"This is a tiny section on a footpath which is a mile-and-a-half long," he said.
The use of asphalt was only because other materials were being washed away whenever there was heavy rainfall, he added.
"The park received money from the assembly for the work to help access for the disabled," he said.
"This is for the blind, and wheelchair users, and although it does not name them it also allows small children to access the mountain.
"As one e-mail I've received says, the national park is not just for the elitist - one day those who are objecting to this may need a wheelchair themselves," he added.