CBS website mistake has Holland winning World Cup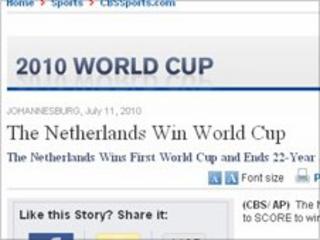 Bloggers have seized on a mistake by CBS News, whose news website accidentally reported that the Netherlands had won the World Cup.
In fact, Spain defeated Holland 1-0 in extra time thanks to a goal by Andres Iniesta.
But CBS's website story carried the line "The Netherlands Wins First World Cup and Ends 22-Year Streak Without a Title of Any Kind".
The mistake was later rectified, but not before drawing attention.
The error was the subject of dozens of posts on Twitter, many of them from the Netherlands.
News organisations routinely prepare dummy stories for events where there are two possible outcomes to allow them to report the conclusion more quickly.