Is Bebo ready to bounce back?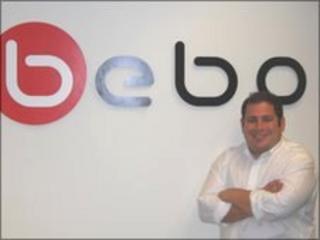 On the face of it, Adam Levin has just landed himself a bargain.
The San Francisco-based investor is now the proud owner of social networking site Bebo after buying it from internet giant AOL last month.
Levin won't reveal the price, but analysts estimate that he paid something between $5m and $10m - a fraction of the massive $850m AOL spent on it in 2008.
"We got a fair deal - we're very happy with the company we've bought," said Levin, adding that he was "really excited" about the future prospects for the company.
The challenge will be to do what AOL failed to do - ensure that Bebo survives and grows in a social networking market dominated by Facebook.
Facebook factor
In 2008, Bebo said it had more than 40 million members and was the second most popular social network site in the UK, as well as number three in the US.
But a big decline in popularity means it now attracts some 12 million monthly unique users worldwide, compared to Facebook's 400 million members.
Microblogging site Twitter, meanwhile, passed the 75 million mark earlier this year.
Bebo's strategy, Levin said, will not be to take on bigger rivals. Instead, it plans to continue as a niche player in the market, by offering something a bit different.
"Facebook have done a great job, but there's still space for others to flourish," he said, adding that Bebo's relative popularity with teenagers was an asset.
"On Facebook, people are already complaining that their parents are on the site. On Bebo, there might be fewer of their friends, but they'll be more selective."
The details are still being worked out, but the new boss said Bebo users will soon be able to do much more with their Bebo account, and new features are promised.
Building a core audience of teenagers will also allow Bebo to sell page space to advertisers who want to target specifically young people, Levin added.
Occupying niches in the social networking market is a strategy that others in the industry are also advocating.
"Facebook have won the social networking battle - it's over," said Dan Wagner, a British internet entrepreneur who is launching his own social network aimed at fashion followers.
"You have to find your own angle that is going to offer users something unique.
"In my view, social networks will crystallise around very specific target markets, and those areas will be complimentary to each other and to the more general Facebook."
He cited LinkedIn, which has carved out a niche as a more business orientated social networking site and now boasts 60 million users worldwide.
Simply being smaller, though, is not enough.
"No one wants to sit in an empty bar," Mr Wagner pointed out.
The heady days when companies like AOL and News Corporation spent hundreds of millions of dollars on sites like Bebo and MySpace are surely over.
But those in the industry are convinced that social networking is here to stay.
"Social networking is such a great way to interact," said Mr Levin.
Dan Wagner agrees: "The internet is a community of individuals and always has been. They will naturally gravitate to areas of common interest."
Compared with the ridiculous sum that AOL paid, a few million dollars for Bebo sounds like the deal of the century. But whether Adam Levin will see that money again remains to be seen.