Surrey man to make marathon car push world record bid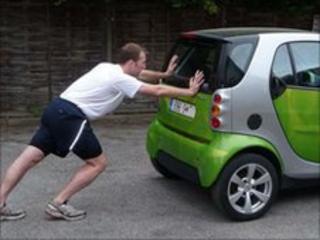 A tax adviser from Surrey is hoping to set a world record by pushing a car the length of a marathon course.
Adrian Kane, 35, from Woking, aims to push a Smart car 26.2 miles (42.16km) in aid of the World Cancer Research Fund and the Stroke Association.
The car push, which must be completed within 24 hours, will take place on 31 July. The current record distance is 17.06 miles (27.45km).
Mr Kane hopes to raise £50,000 in memory of his mother Eileen.
'Devastating for us'
Mrs Kane died from bowel cancer in January at the age of 66.
She was unable to receive chemotherapy after suffering a stoke which left her paralysed on her right-hand side.
"It was so devastating for us all," said father-of-two Mr Kane.
"In just over 18 months our lovely, smiling, happy mother was gone.
"After she died I was determined to achieve something special.
"I have had an interest in world records for a long time and after a bit of research I came across this particular record."
Mr Kane plays football, rugby and cricket and has run two marathons.
"I knew with some training that I could do it," he said.
"Training is incredibly hard, especially fitting in around a career and a young family.
"I've been doing a lot of squats, about 1,500 a session, and a fair amount of running."