Pupils 'devastated' by school rebuild let down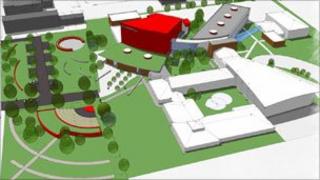 Rarely has a ministerial announcement been so swiftly or keenly felt by young people.
Just one school day before Michael Gove said he was axing England's school rebuilding scheme, pupils at Liverpool's St John Bosco Art College put the finishing touches to their school's new design.
Then they heard it was was one of the 700-plus revamps across England that would not be going ahead.
"It was devastating news," said 15-year-old pupil Lynsey Campbell.
"First we were shocked, we found it so hard to believe. Then we were frustrated because of all the work we have done on it."
She, and 21 other pupils across the school, have spent the past 18 months working on the project on behalf of the school.
They have been feeding in pupils' views on every part of the proposal, saying what would and would not work.
Heather Duggan, assistant head teacher at the girls' school in Croxteth, said students had been involved in the project to revamp the girls' school from day one.
She said recent events had sometimes made her question whether that decision was the right one.
"But we went into this project completely whole-heartedly, completely believing that we should involve all the stakeholders and we did.
"The girls have flourished throughout the process, growing in terms of their confidence and their independence," she added.
But the decision to pull the funding for the school's Building Schools for the Future scheme, part way through the process, has hit the youngsters hard.
Liverpool's cabinet member for education and children's services Councillor Jane Corbett visited the school to try to soften the blow.
"They said to me, 'how could the government be allowed to do this, to destroy young peoples' futures?'
"It nearly made me cry," she added.
They asked whether it was because they came from Croxteth, with its association with gang crime and the murder of Rhys Jones, she said.
'Design champions'
"I said to them, 'you've got to make sure that your voice is heard and if they were desperate to campaign, let's look at how we can do that'.
"And if they were angry to be sure not to take that anger inside themselves. 'Use your anger in a positive way' I said."
They have already written individually to the education secretary and the school's BSF team are planning to join a delegation to Parliament.
And it is not just the pupils who are bemused by the decision.
The school spent the money it was to use revamping its science block on buying new lap tops for a new IT-based way of working.
Miss Duggan, who has not taught a lesson since February because of her involvement in the project, said: "We were just floored. We had expected that the programme would be scaled back, but not that it would be completely scrapped."
The assistant head, and two other senior members of staff, have spent two and a bit days a week working on the scheme since April.
Staff had given up a lot of their own time as well but felt it was worth it for the prize on offer - a new school designed for the pupils by the pupils.
"Advisers have been brought in left, right and centre. We had urban designers, city planners and all sorts from the council," she said.
They were able to show just how crucial design was in affecting issues like heat retention, she added.
"In many respects the advisers were needed because we are teachers not builders or architects," Miss Duggan said.
And it was this very army of planners, designers and consultants that caused many, including Mr Gove, to see BSF as bloated and bureaucratic.
A review he has set up will look at how school building projects should be run in the future.
In his Parliamentary statement scrapping the scheme, Mr Gove mocked the requirement for councils to appoint design champions, design advisers and 10-person project teams.
Coherent plan
But without their help, schools and head teachers would not have been able to have such full some input into their school's new design, says Malcolm Trobe, policy director at the Association of School And College Leaders.
School staff had "sweated blood" on their rebuild projects, he said, but acknowledged that the process could have been simplified.
"But it's not just about buildings, about bricks and mortar, it was setting the learning culture for the school - you couldn't just bring in a bunch of architects."
"It wasn't just about replacing a building it was looking at what learning would be like in the future - it was about having a vision."
St John Bosco and other Liverpool schools are trying to keep that vision alive.
The council has amalgamated schools and even closed one on the understanding it would get £350m money to revamp its estate.
Cllr Corbett said the council was now trying to pull together a plan B, to ensure pupils could still benefit from a modern education.
"All the rational, the clear thinking, the transparency for us to reorganise the city's schools - we had worked hard to get that right.
"We had created a coherent plan which has now been destroyed by the sweep of a pen."