Queen presides over Ceremony of the Keys in Edinburgh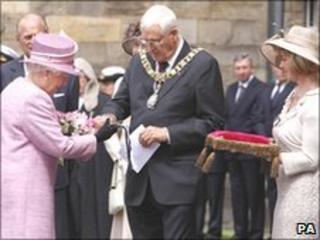 The Queen has presided over the traditional Ceremony of the Keys at the start of the annual Royal Week.
She was presented with flowers by wellwishers who watched the ceremony at the Palace of Holyroodhouse in Edinburgh.
The Queen was greeted on the forecourt of her official Scottish residence by the city's Lord Provost George Grubb.
In a symbolic gesture during the ceremony the Queen was offered the keys to the city.
As is customary, she handed them back, entrusting their safekeeping to the city's elected officials.
Thanking Mr Grubb, she said: "I return these keys, being perfectly convinced that they cannot be placed in better hands than those of the Lord Provost and councillors of my good city of Edinburgh."
The Queen, dressed in a purple coat and hat with a green feather, inspected members of the Lowland and Highland Gunners of the Royal Artillery.
Monday's event was the first of a series of engagements the Queen will undertake during her stay in Scotland.