Corruption trial stopped by judge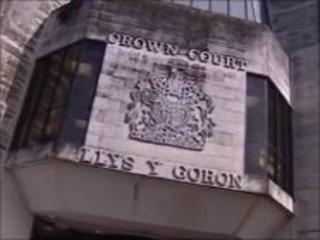 The trial of a businessman accused of being the go-between for a corrupt Crown prosecutor has collapsed because of his "psychological difficulties".
Saifur Rahman Khan was on trial for allegedly arranging for Sarfraz Ibrahim to intervene in an assault case in return for a share of a £20,000 bribe.
But the judge at Swansea Crown Court stopped Mr Khan's trial after a psychiatric review of his mental state.
Mr Khan, 37, of Ty-Gwyn Avenue, Cardiff, may now face a new trial.
He had been accused of corruption, attempting to pervert the course of justice and aiding and abetting misconduct in public office.
The charges, which he denied, all related to a period between May and August 2009.
Ibrahim, 51, of Cardiff, had pleaded guilty to corruption, misconduct and attempting to pervert justice.
Mr Khan had been the co-defendant in the trial with the senior Crown prosecutor.
Mr Khan's trial was nearly ending when the judge, Mr Justice Treacy, called in the jury and said they would be discharged.
He explained that a report into Mr Khan's mental state had only become available at the weekend.
It made it clear that his condition meant he had difficulty concentrating, the judge said.
Had it been known earlier the trial would have been held "in a different way", he explained.
Proceedings had now progressed too far for the problem to be resolved.
Mr Justice Treacy told the jury: "If the present trial continued then Mr Khan might have had a legitimate complaint that it had not been fair to him."
He told the jury that a new trial, if it took place, would follow a "different format".
Any new jury would be told of Mr Khan's problem.
He said he regretted the situation, and had tried to find a solution, but added: "It is simply not possible to fix the situation."
The prosecution is expected to state on Tuesday whether or not it will seek a retrial.