Italian court tells Gaddafi son to pay huge hotel bill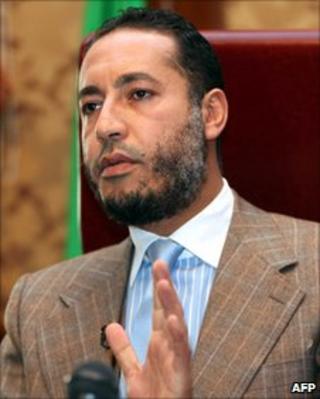 An Italian court has ordered the third son of Libyan leader Muammar Gaddafi to pay a hotel bill of 392,000 euros ($494,000; £330,000) he has allegedly owed since 2007.
Saadi Gaddafi has been sued by a hotel on the Italian Riviera, the newspaper Corriere della Serra reported.
He had rented an expensive hotel suite for himself and his bodyguards for about a month in the summer of 2007.
Mr Gaddafi also entertained guests at the hotel, the newspaper reported.
At the time the businessman and footballer was at the end of a contract with Italian football club Sampdoria Genua.
The club had hired the Libyan leader's third eldest son for the 2006-07 season - but the new team member did not play a single match.
According to Corriere della Serra, Mr Gaddafi left the hotel without settling the bill. But he did leave a sports utility vehicle that is still parked at the hotel.
The Grand Hotel Excelsior reportedly first sent the bill to the Libyan embassy in Rome, which it said had paid bills on behalf of Saadi Gaddafi before.
However, the hotel was told that the Libyan government would have to authorise such payments, Corriere della Sierra reported.
The hotel is also claiming 5,000 euros in legal fees.