Katherine Jenkins to star in Christmas Doctor Who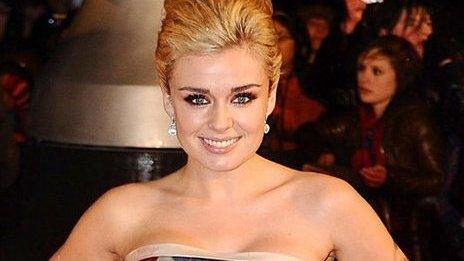 Classical singer Katherine Jenkins is following in the footsteps of Kylie Minogue by starring in a Doctor Who Christmas special.
The Welsh vocalist will feature alongside veteran actor Michael Gambon in this year's special episode.
Producers are promising a special twist on the much-loved A Christmas Carol theme.
Executive producer Steven Moffat described it as "all your favourite Christmas movies at once".
The precedent was set in the 2007 Doctor Who Christmas special when pop star Minogue had a starring role.
It is a first acting role for Jenkins, 30, from Neath, who will be able to benefit from the vast experience of Gambon - best known for his role as Dumbledore in the Harry Potter movies.
Speaking about the role, Jenkins said: "I'm over the moon to be involved in the Doctor Who Christmas special.
"I can't quite believe it as it's a part of the family tradition at the Jenkins household.
"I heard the news that I got the role on my 30th birthday and it was the best birthday present ever."
Mr Moffat said the team were fired up for the episode.
He said: "We're going for broke with this one. It's all your favourite Christmas movies at once, in an hour, with monsters. And the Doctor. And a honeymoon.
"I've honestly never been so excited about writing anything. I was laughing madly as I typed along to Christmas songs in April."
The hour-long show will join Doctor's assistant Amy Pond (Karen Gillan) and new husband Rory Williams (Arthur Darvill) as they venture off on their honeymoon.
But being Doctor Who, the holiday is unlikely to proceed as planned.
Ben Stephenson, controller of BBC drama commissioning, said the collaboration between the team, Jenkins and Gambon would be an "unforgettable present".