Whisky firm Morrison Bowmore toasts rise in profit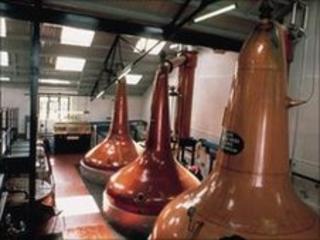 A Scottish distiller has announced a 7% rise in its 2009 pre-tax profits to £3.8m.
Morrison Bowmore said although global sales for single malt whisky declined last year, it increased turnover by 6% to nearly £40m.
The company is owned by the Japanese family drinks firm, Suntory.
It said sales of its Islay Single Malt increased by 12% with the Japanese malts, Yamazaki and Hakushu, selling well in the UK and Europe.
The two single malts are distilled in Japan and Morrison Bowmore handles the sales in Europe.
The distillers also blend and bottle Drambuie after winning a contract last year.
The agreement led to new jobs and investment at the group's Glasgow site in Springburn.
Morrison Bowmore operates a total of three distilleries in Scotland - in Islay, Aberdeen and Clydebank.
Chief executive, Mike Keiller, said: "The company continues to focus on building its single malt whisky brands and investment in recent years, in both Bowmore and Auchentoshan, is starting to pay off with significant growth in the brands performance in 2009 despite the difficult economic conditions."