Second librarian strike over Southampton volunteer plan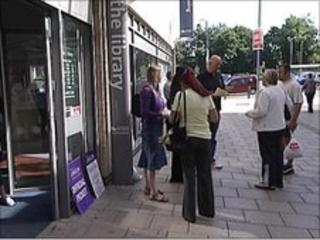 Southampton's librarians are to stage a second strike over plans to replace some of them with untrained volunteers.
Staff protested outside the Portswood, Bitterne, Woolston, Shirley and Central Libraries on 21 June.
They now plan to walk out between Friday 16 July and Monday 19 July. The council has said it was responding to "difficult economic times ahead".
But the Unison union said recent talks with the city council had failed and it "is bent on running down services".
Unison branch secretary, Mike Tucker, said Unison officials "urged" the local authority to "re-think its plans" but "were unsuccessful".
Mr Tucker added: "Councillors are hell bent on running down services which have taken generations to build up.
"Libraries need professional staff to provide a modern service to the people of Southampton. Untrained, unskilled, unreliable volunteers will not provide this service.
"Southampton librarians are determined to resist the destruction of the library service."
The city's Labour MPs John Denham and Alan Whitehead also attended the protest in June.
The council plans to recruit members of the public to carry out unpaid work in the libraries to cover seven librarian posts to save money.