Doctor fears Glenfield heart unit's future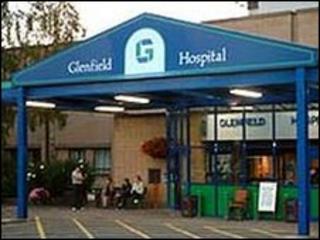 A senior consultant said he fears a review of NHS paediatric cardiac units could affect Glenfield Hospital in Leicestershire.
The NHS is reviewing 11 paediatric cardiac surgery centres in England with a view to closing some centres.
Officials want the care in fewer, larger wards to provide a higher standard of treatment for children.
But now leading doctor Giles Peake fears a specialist cardiac and respiratory service could be lost.
Medical experts have advised there should be fewer but larger centres of expertise for cardiac surgery on babies and youngsters across England.
The NHS Management Board has asked the National Specialist Commissioning Group (NSCG) to look at the way children's heart surgery services are currently provided.
The Glenfield Hospital was inspected in May. The NSCG will make its recommendations later this year before final decisions on the unit's future are taken in the spring.
But Mr Peake, who leads the children's heart care unit at Glenfield Hospital, fears that either a scaling back of services or the closure of the unit would lead to the loss of the specialist ECMO (Extra Corporeal Membrane Oxygenation) unit.
The unit treats acute respiratory and cardiac conditions and the equipment and staff who work with children are the same team that treat adult cases.
The closure or reduction of the children's service would, Mr Peake, fears, impact on adult care as well.
He said: "We like to think of ourselves as a family and patients have often said they fell it (the unit) is like their extended family.
"So the final word here is that we're big enough to cope with difficult cases, but we're small enough to care."
Mr Peake said the team's work should be recognised for the work it has carried out and the unit allowed to carry on.
He added: "I hope that this national service that we provide will be recognised and we will be given the opportunity to carry on providing for the future."
He said there was no evidence that larger units provided better care than those already in place.