'Step aside' call over David Mundell election spending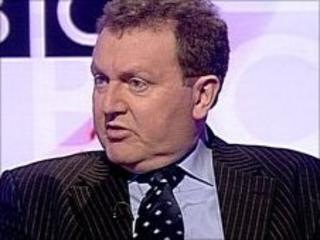 Scotland's only Tory MP has been urged to give up ministerial duties pending a potential election expenses probe.
It follows a Sunday Herald report that David Mundell was checking whether just under £700 had been omitted from the cost of part of his campaign.
Labour MSP Elaine Murray said it was "potentially a very serious matter".
A Tory spokesman said Mr Mundell had not intentionally broken any rules but would refer any mistake to the Electoral Commission himself.
The Scotland Office minister, the MP for Dumfriesshire, Clydesdale and Tweeddale, is facing a possible inquiry over payment for an advert in the Peeblesshire News.
The cost, nearly £700, would take his expenses over the permissible limit.
It appears the money was counted, but earlier in the campaign.
A Tory spokesman said: "He will check whether there has been a mistake and if there has been, he will refer it immediately to the Electoral Commission himself."
However, Dumfries MSP Ms Murray said Mr Mundell needed to answer a number of questions "in order to explain himself".
She added: "Election rules are designed to ensure there is a level playing field so that people with money cannot buy votes.
"Mr Mundell is currently the government minister responsible for the good conduct of elections in Scotland so it is only appropriate that he steps aside pending the outcome of investigations into this potential criminal error."