Dig aims to unearth Tullos Hill's secrets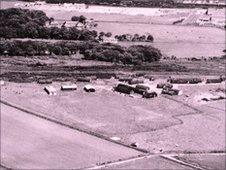 Archaeologists are calling for volunteers to help unearth the secrets of a historic site in Aberdeen.
Tullos Hill has long been known as an important archaeological site because four Bronze Age burial cairns are located there.
But interest was renewed several years ago when a survey revealed new historic and archaeological features.
Archaeologists now want the public to help search for artefacts which reveal more of the hill's intriguing past.
Until recently, it was believed few archaeological remains survived on the hill because of its use as a landfill site since the 1970s.
However, a survey by CFA Archaeology in 2004 revealed further evidence of prehistoric activity and more recent structures associated with the 18th to 19th Century development of the Tullos House estate.
Interest was further boosted last year by the discovery of the remains of what is believed to be Aberdeen's last surviving World War II prisoner of war camp.
The site also features the remains of a heavy anti-aircraft battery situated some 300m south west of the summit.
The aim of this week's dig is to examine some of the features identified during the 2004 archaeological survey more closely. It is hoped this will help determine the nature of the finds and establish their age.
The excavation is being directed by Ian Suddaby of CFA Archaeology, who undertook the 2004 survey.
Judith Stones, Aberdeen city council's curator of local history and archaeology, said: "This is a great opportunity for local people to work alongside professional archaeologists to discover more about this rich historic landscape, and for visitors to understand more about the past, present and future of Tullos Hill."
Volunteers interested in taking part in the dig, which runs until 21 July, must contact CFA Archaeology to book a place.
Related Internet Links
The BBC is not responsible for the content of external sites.