Uganda eyewitness: 'Blood stains on my feet'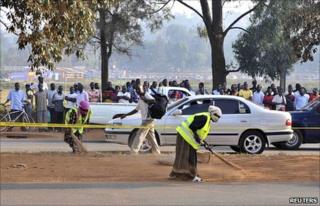 Ugandan student Andinda Moses, 21, was watching the World Cup final match at the Kyadondo Rugby Club in Kampala, which was one of two venues targeted by suspected Somali insurgents.
At least 64 people have died and some 70 others are injured.
He told the BBC News website what he witnessed via telephone from his home.
"What happened was that we were peacefully watching the game. No-one could have expected what happened.
But all of a sudden there was the first explosion.
At first we thought it was an electric short circuit. My friends and I were sitting in the middle but after the first disturbance we shifted closer to the front and the screen.
I heard a voice saying: 'There is a danger, take off, run for your lives...'
But, all of us, we thought he was joking.
We don't know about bombs - we thought he was being crazy.
And we didn't want to miss the match.
'In tatters'
Then it was the second blast that caused the damage.
The sound from the first one was behind where I was. But the second one was near us in front; at this time we were packed together - really many. That is why it was such an impact.
It was just five minutes - I think - because after the first, we were all confused and then no sooner had we started watching again than we heard the second one.
The second blast made people realise it was a bomb but it was too late for some of us.
I just observed all the plastic chairs were in tatters and there was blood all over the place.
Everyone was rushing.
'Trying to escape'
There were some people who were drunk and so we had to step over them.
Actually, I just remember running and stepping over the bodies that had blood spilling from their bodies. It was so terrible.
Everyone was taking off and trying to escape.
I was running, not knowing where I was going.
Others were wailing and crying.
It was so noisy and full of crying. I can't even explain the sound.
After coming to my senses, I realised that I had blood stains all over my feet.
I thank God that I survived.
Also that all my friends are all right.
From that time I have just been thinking about happened.
I still can't believe it."