Appeal over dog found in Fife quarry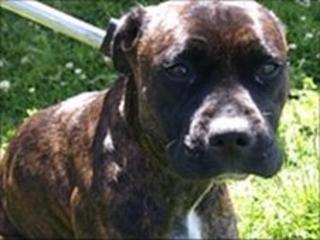 A thin dog bearing a large scar from a recent operation has been found wandering in a quarry in Fife.
The female brindle Staffordshire bull terrier was found underweight in Kelty Quarry.
The four-year-old dog has been taken to Whitehill Kennels, near Dunfermline, for treatment.
Animal welfare officers believe the dog might have recently been nursing puppies. She was found with stitches across her stomach on Wednesday.
Insp Steven Gray, of the Scottish SPCA, said: "The dog is approximately four years old and she is very scared and nervous, probably because she doesn't know where she is or why she's on her own.
"She is underweight, which could be due to recently recovering from nursing pups, and she also has a scar and stitches on her stomach from a very recent operation, possibly spaying.
"She's now being made comfortable at Whitehills and receiving all the care and attention she deserves, but clearly she's had quite a tough time lately so we're very keen to find out exactly what has happened to her.
"It may be that she has escaped from her owner, who could be desperate to get her back, but on the other hand, we deal with a lot of dog abandonments and there is a chance that she has been cruelly dumped."