Jersey police chief Graham Power 'exonerated'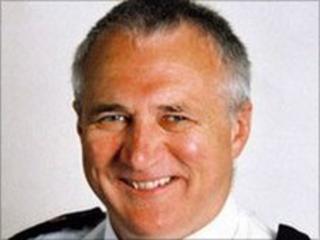 Jersey's police chief says he has been "exonerated" over claims he mishandled the historical abuse inquiry into ex-children's home Haut de la Garenne .
The £1m inquiry into his conduct has now ended because time has run out before Graham Power retires on 19 July.
Mr Power was suspended in 2008 while Wiltshire Police investigated.
Home Affairs Minister Ian Le Marquand maintains there is evidence of "serious failures" by Mr Power in the police report which he is revealing this week.
Mr Power was suspended in 2008 over the way he handled Jersey's inquiry into the former children's home.
He said: "I am obviously pleased this unnecessary and unjustified disciplinary inquiry is now to be abandoned.
"In common with everyone else, I am entitled to be presumed innocent until proven guilty.
"The abandonment of disciplinary proceedings after almost two years means that I can now be regarded as having been exonerated of all allegations.
"That is not a matter of opinion. It is an accepted principle of justice."
The 63-year-old, who must retire by the end of the year, gave six months' notice of his departure.
Mr Le Marquand said he would be revealing part of the Wiltshire Police report this week, adding: "There is still evidence of serious failures on his part."
Police in Jersey began a covert investigation, dubbed the historic abuse inquiry, in 2006, which became public in November the following year.