Shot police officer 'bears no malice' toward Raoul Moat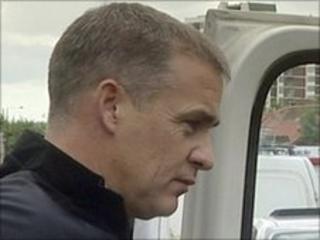 The police officer apparently shot by Raoul Moat has said he bears no malice towards the gunman.
Pc David Rathband was seriously injured when he was shot in the face and chest as he was sitting in his patrol car in East Denton, near Newcastle.
Police have said the officer could lose the sight in both eyes.
Moat apparently shot himself after a stand-off in Rothbury, Northumberland. An inquest into his death is due to be opened and adjourned on Tuesday.
The 37-year-old, from the Fenham area of Newcastle, had been on the run for a week, sparking a huge manhunt.
Police believe he may have been carrying an additional firearm and have widened their search of the Rothbury area in the hope of finding the gun and bullets.
Pc Rathband, a 42-year-old father of two, said: "I bear no malice towards the man who shot me, but now wish to move on with my life.
Reconstructive surgery
"My injuries are life changing. It will require significant adjustments in the future in all aspects of my life.
"I enjoy my job as a police officer and I am totally committed to serving the public.
"Although I face long-term treatment, I am determined to return to duty as a police officer."
Pc Rathband has undergone facial reconstructive surgery at Newcastle General Hospital and is now off the critical list.
The hunt for Moat began on 3 July after he was suspected of shooting his ex-girlfriend Samantha Stobbart, and murdering her partner, Chris Brown.
They were both shot in the Scafell area of Birtley, near Gateshead. Pc Rathband was shot the following day.
He said the officers who came to his aid had helped to save his life.
"I want to take this opportunity to thank everyone who has helped me, in particular those officers who came to my immediate aid at the scene and helped to save my life," he said.
"All the medical and nursing staff who have cared for me have been fantastic and I am indebted to them.
"I am grateful to all those officers from many forces who have helped me and my family during the last week and to my own shift of officers who have given me their full support.
"I am acutely aware of the impact events have had on many people and my thoughts are with them all, particularly the family of Chris Brown."
Dramatic footage showing the stand-off between armed police and Moat has been obtained by the BBC.
Filmed from a building overlooking the scene in Rothbury, it shows Moat holding a shotgun to his head hours before he died.
'Offered to help'
The gunman's family has criticised the police handling of the case and hit out at the media's coverage of the manhunt.
Moat's 39-year-old brother Angus, from Gateshead, and Moat's uncle Charles Alexander said they offered to help with negotiations during the stand-off but were turned down.
The mother of Mr Brown also hit out at police for not offering protection to her son after Durham Prison alerted the Northumbria force that Moat had threatened his girlfriend Samantha Stobbart.
Prison staff told police of Moat's possible intentions on 2 July.
She told ITV News: "When he (Moat) came out and they had that warning, whoever got that warning should have taken it further.
"If he (Moat) was such a threat and they (the police) were warned, then they could have been keeping an eye on him."
Criticism has also come from former Metropolitan Police Assistant Commissioner Andy Hayman, who said Moat was "running circles" around the police.
Mr Hayman said: "I think the public face of the whole event was that, at times, I think Northumbria Police were struggling.
"I think there wasn't a day that went by without, it seems, Moat running circles round the police.
"As a force Northumbria Police is very highly regarded and has a very high standing, but I just don't think last week was their finest hour."
But earlier Mick Henry, chairman of Northumbria Police Authority, said: "I have got every confidence in the chief constable and her command team.
"But I think it's fair to say with an incident of this scale you'd be very, very surprised if someone, somewhere didn't have criticisms - whether they were valid or not."
Police have been searching the River Coquet in Rothbury for a weapon believed to have been carried by Moat.
The Independent Police Complaints Commission (IPCC) is investigating how Northumbria Police responded to the warning from Durham Prison - from where Moat was released on 1 July - that he had issued threats against Miss Stobbart.
The IPCC is also looking into the hunt for and subsequent death of Moat.