First apology over bus driver's wheelchair refusal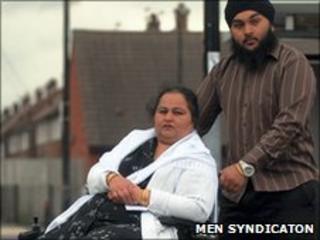 A bus company has said it will apologise to a disabled woman about a driver who refused to help her.
Renu Duggal, 46, from Timperley, Greater Manchester, asked the First bus driver to operate an automatic ramp to allow her to get off at Piccadilly.
Ms Duggal's son Arjun filmed the driver of the 135 bendy bus sitting at the wheel, hiding his head with a timetable after declining to help.
First said it had begun an inquiry into the "regrettable incident" on 1 July.
Fellow passengers
Richard Soper, managing director for First in Manchester, said: "We have been made aware of this incident and have immediately begun a full and thorough internal inquiry.
"First is committed to ensuring that all its customers have full and easy access to its buses and I would personally like to apologise to this wheelchair user for this regrettable incident.
"I am also keen to meet with Renu Duggal and her son Arjun to address some of the issues raised by this incident."
Arjun Singh Duggal, 17, a student at Trafford College and a volunteer youth worker, said: "I emailed First on 2 July and have phoned to complain and left all my details, but 10 days on we have still heard nothing.
"It's a disgrace that First is saying now through the media that it wants to apologise, but has not had the decency to contact us even at this stage."
Fellow passengers eventually helped Mr Singh Duggal manoeuvre his mother's electric wheelchair off the bus.
Department for Transport guidance to drivers states that bus drivers "must wherever reasonable assist a wheelchair user if they ask".
It continues: "You must make a boarding device available when a disabled person wants to get on or off.
"Whatever type of lift or ramp is provided you should make sure you know how to use it."
Ms Duggal, who is a committee member of Shopmobility in Manchester and a disability rights campaigner, recognised by the Queen's Award for Voluntary Service, was unavailable for comment.