Seven injured after south Belfast bonfire hit-and-run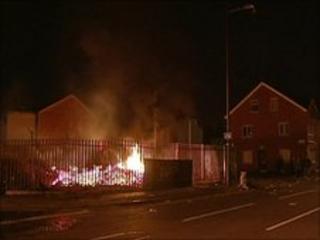 Seven people, including two young children, have been injured after being hit by a car while attending a bonfire in south Belfast.
The incident happened at Coolfin Street in the Village area at about 0100 BST on Monday morning.
The two children are being treated in hospital for minor injuries.
Police have appealed for the driver of the silver vehicle, understood to be male, to come forward. It is understood he was the sole occupant of the car.
It is understood police are still investigating whether the motorist drove deliberately at bystanders or panicked.
A community worker in the area, Paula Bradshaw, said that her understanding, after speaking to police and eyewitnesses, was that the teenage driver had become confused and that his actions had not been malicious.
However, Ulster Unionist councillor for the area, Bob Stoker, who was at the bonfire, said he believed it was deliberate.
"The driver slowed right down and then sped up again, straight at the crowd.
"The car had a Belfast registration so you would think that it would be someone who would be familiar with the area."
He added that nine ambulances had attended the scene while other people with minor injuries had walked to the nearby City Hospital.
DUP councillor Ruth Patterson said the injured included a woman in a wheelchair.
She added that local people wanted to know why the PSNI had not closed off the road to through traffic during the bonfire.
Thirteen police officers were injured during trouble at a nearby interface on Monday morning.
About 200 people threw petrol bombs, stones and bottles at Broadway.