East Timor parliament rejects Australia refugee plan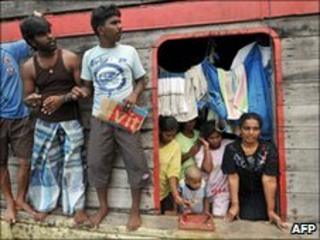 East Timor's parliament has unanimously rejected a proposal by Australia's new prime minister that the tiny country host a refugee processing centre.
All 34 lawmakers voted against Julia Gillard's plan for a centre that would assess the claims of asylum seekers who set out for Australia by boat.
East Timor's president has said he is open to negotiation, but the decision-making power rests with the government.
Australia currently processes refugees on Christmas Island.
However, the detention centre in the Indian Ocean is overcrowded and many asylum seekers have been moved to the mainland while their applications are assessed.
'Very unlikely'
The overwhelming rejection of the so-called East Timor Solution is a huge setback to Julia Gillard's plan.
East Timor's President Jose Ramos-Horta has said he is open to the idea as long as it is a temporary stop for people before they are resettled in other countries.
However, his role is largely ceremonial. East Timor's Deputy Prime Minister Jose Luis Guterres recently said his country was "very unlikely" to accept the idea.
He suggested Australia had the capacity to deal with its asylum seeker issues internally, or by boosting aid to countries where the refugees come from, primarily Sri Lanka and Afghanistan.
Meanwhile, Ms Gillard appears to have backed away from naming East Timor as the location for such a centre - suggesting she had been misunderstood or misquoted in an earlier speech.
A location for such a centre would only emerge from talks with regional neighbours, she said in an interview on national radio last week.
Treatment of asylum seekers is a contentious issue in Australia, and the debate about border protection comes ahead of elections in Australia, expected this year.