Despicable Me eclipses Twilight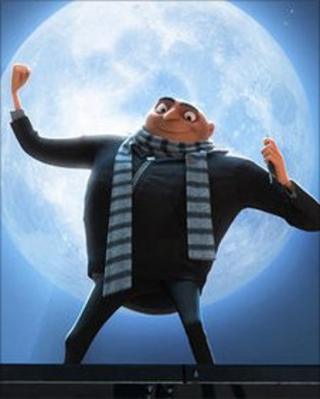 The Twilight Saga: Eclipse has been knocked off the top of the North American box office after one week by animated 3D film Despicable Me.
The new number one took $60.1m (£40.2m) while vampire sequel Eclipse took $33.4m (£22.3m), according to early studio estimates.
Despicable Me tells the story of a villain, voiced by Steve Carell, who plans to steal the moon.
Predators, an update of the 1987 sci-fi classic, opened in third place.
The original film starred Arnold Schwarzenegger and topped the US box office in its first week of release while the reboot, which stars Laurence Fishburne and Adrien Brody as commandos being stalked in the jungle by alien predators, took $25.3m (£16.9m).
'Studio win'
The makers of Despicable Me, which also features the voices of Russell Brand and Dame Julie Andrews, said the estimated $60.1m take had surpassed expectations.
"$30m would have been a win for the studio," Nikki Rocco, head of distribution for Universal, said.
He added: "I would never have said $50m-plus."
The Twilight Saga: Eclipse has now made $237m (£158.2m) in its first 12 days and is expected to surpass the second film in the franchise, New Moon, which grossed $296.6m (£198m) last year.
"Twilight dropped less than 50% - that's impressive to me," said Paul Dergarabedian, of box office tracker Hollywood.com.
"That's a really strong hold for a movie that, in its first day, made $68m (£45.4m)."