BAA passenger numbers hit by BA strike in June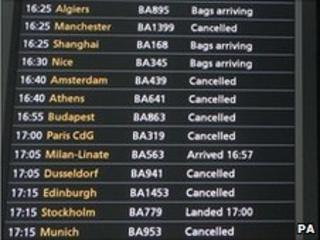 UK airport operator BAA has said the number of passengers using its airports fell in June because of continued disruption from the BA strike.
Passenger numbers in BAA's airports fell 1.7% compared with June 2009.
BAA said that without the impact of the strike it would have expected traffic to have been at the same levels as the previous year.
BAA operates six airports in the UK - Heathrow, Stansted, Glasgow, Edinburgh, Aberdeen and Southampton.
The airports operator - which is majority-owned by Spanish firm Ferrovial - sold Gatwick for £1.5bn last year.
British Airways cabin crew were on strike for a total of 22 days this year, including nine in June, as part of a long-running industrial dispute.
The airline said recently it carried 2.57 million people last month, down 11% compared with June 2009.
BAA's Glasgow airport suffered the worst decline, down 7% compared with the same month a year earlier.
Meanwhile Stansted saw a drop in passenger numbers of 5.2% - though BA does not fly from that airport.