World Cup final fails to impress UK newspapers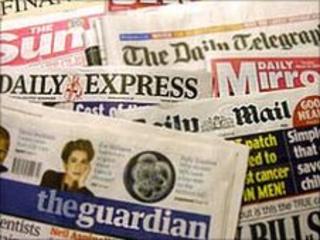 Spain's victory in the World Cup final is welcomed in the papers - although the manner in which they won is not.
"The final that died of shame", writes the Sun's Steven Howard. With 14 yellow cards, he thinks the game "disgraced the tournament and European football".
It was all "tough and painful foul challenges" not "flair and skill", says John Cross in the Daily Mirror.
"One saint, but a lot of sinners", adds the Daily Star - the sole hero being Spain's goal scorer Andres Iniesta.
'No fear'
The Independent front page declares South Africa itself to be the "real winner" of the World Cup, particularly as crime played little or no part.
"It is not just visitors who were pleasantly surprised - South Africans themselves no longer fear each other," writes Daniel Howden.
"After the rapture, how to make South Africa roar?" That is the question asked by the Financial Times.
It says the country "needs to rethink the economy" and root out corruption.
'Greedy and treacherous'
The Times prints extracts from Lord Mandelson's memoirs, which it says show the "deals, calculations and deceptions" which led to the formation of the coalition government.
"So unattractive it is, indeed, that it is hard to specify what, exactly, is the most unattractive bit," it adds.
The Daily Mail's Peter Oborne says the book is bad for Labour and the decision to publish it "greedy and treacherous".
He feels Lord Mandelson's "special brand of poison" is a big threat to the party.
'Public execution'
The Guardian says the police and media reaction to the Raoul Moat manhunt became, at times, "a bit of a circus".
It thinks the recent case of gunman Derrick Bird, who killed 12 people in Cumbria, meant "the response was ratcheted up on all fronts".
The Daily Telegraph says police are facing questions "over how the hunt ended in a 'public execution'".
"Moat's family fiercely criticised the police's handling of the stand-off," the papers adds.