Trafalgar Square fountain lit up for World Cup winner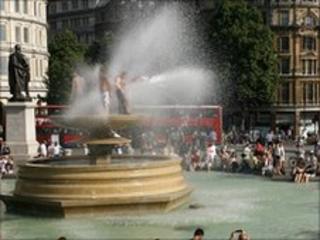 The fountain at Trafalgar Square will be be lit up in the colour of the football team that wins the World Cup.
Netherlands and Spain will fight for the cup at Soccer City in Johannesburg.
The LED lights in the two Grade II listed fountains will either turn red or orange as the final whistle is blown in South Africa after 2115 BST.
The mayor's office said the gesture will highlight London's "internationality" and boost its case to host the 2018 World Cup.
Thousands of Dutch and Spanish people reside in the capital.