Security firm to patrol in vandal-hit Cayton village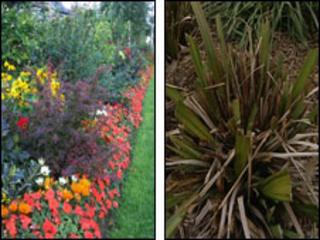 Private security officers have been hired to protect a village's floral displays from further poisoning ahead of the annual Britain in Bloom contest.
It follows a spate of attacks with a banned weedkiller on flowers in Cayton earlier this year.
It was believed to be a deliberate attempt to sabotage the village's chances in the national competition.
Sponsors have paid for security guards to patrol the village ahead of the contest in August.
Over the years the village's flowers beds and baskets have won numerous awards.
'Serious situation'
But in May, a number of floral displays were killed off and analysis tests showed the banned weed killer sodium chlorate had been used.
Cayton in Bloom chairman Led Hutchinson said: "This is a very serious situation and we had no choice but to hire guards. We have to do all we can.
"Guards will be on the lookout for anybody acting suspiciously and by introducing these measures we hope to put vandals off from further damaging our displays.
"The judges are aware of the situation and we are still optimistic for a good result in the competition."
Since the attacks, Scarborough council staff have been working with volunteers from the In Bloom group to remove all traces of the chemical from the shrub beds and get the bid for Britain in Bloom glory back on track.