Horse manure to power Woolwich home of the King's Troop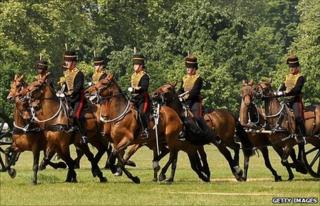 The manure from horses in the King's Troop will be used to heat and light its new headquarters in south London.
The dung from the 170 animals of the Royal Horse Artillery will be made into pellets to generate bio-fuel, a Ministry of Defence spokesman said.
The regiment will use the fuel when it moves from St John's Wood to its new headquarters in Woolwich in 2011.
The MoD said the sustainable move was in line with the new government's target to reduce carbon emissions.
Promoting sustainability
The King's Troop are a part of the Household Troops
Their duties include the firing of Royal Salutes in Hyde Park on both Royal anniversaries and State occasions as well as performing at ceremonies for the Queen's Life Guard at Horse Guards.
The regiment's new home in Napier Lines will provide stables and indoor and outdoor training facilities for the 170 horses.
The new building will also have a viewing gallery, regimental offices, a museum, gun park and forge and will house the troop's historic gun carriages which are used for royal ceremonies.
Both horse manure and bedding from the stables will be processed into bio-fuel.
A MoD spokesman said: "The MOD encourages innovation by our people and suppliers, including measures to promote sustainability wherever possible.
"The MOD is fully committed to the government's sustainable development agenda and to aggressive reductions in carbon emissions. In 2008/09 the MOD met the goal to reduce emissions by 12.5%, compared to 1999/00 levels, two years ahead of the target date."