Fraud victim: 'I have been humiliated enormously'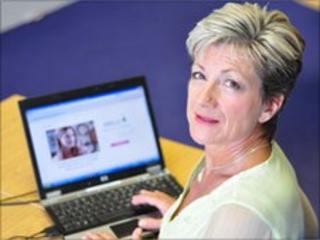 The UK's national fraud reporting centre has revealed it was contacted by more than 15,000 people who said they had been victims of scams in the first six months of this year. One woman tells the BBC how she was duped.
Brenda Parke is an unlikely victim of fraud.
Attractive, confident and self-reliant, she lives with her dog Oscar in a comfortable home looking out onto the rolling West Sussex countryside, after a successful career in travel and tourism.
And late last year, she decided it was time to share it with someone.
"I'd been on my own for a number of years and just reached a point where I decided to do something about it," she explains.
'Honesty hook'
Divorcee Brenda, 60, joined a dating website and just before Christmas 2009 received the first email from "Bradford Cole" - supposedly a Dutch businessman working in the UK.
"His profile looked very interesting," she says. "I liked the sound of him, I liked the look of him - and the top-line of his profile said 'honesty is the best policy' which was a bit of a hook."
Brenda and "Bradford" began emailing each other regularly, and soon they were chatting on the phone.
"He said he was 46, with a 14-year-old daughter. His wife had died a few years before.
"He was a businessman, he was looking for someone to share his life with him. I pointed out to him that there was an age difference; but he replied that I was still a good-looking woman, and of course, it's very flattering."
Brenda admits that although all she knew of "Bradford" were sketchy personal details, and his small profile picture on the dating website, by February they were chatting up to three times a day on the phone and were developing "quite a bond".
Then he told her he had to go to the Benin Republic in West Africa on business.
"He said he supplied and fitted computers. He had some issues with the shipment, there was a delay in transportation and he also had taxes that he needed to find."
Initially, there was no suggestion that Brenda should pay any money. But then "Bradford" played a new card: claiming he and his daughter had been in an accident - and the hospital needed paying.
"He inveigled his way into my emotions," says Brenda. "I was very subtly, very cleverly on his part put into a position of responsibility for the welfare of his daughter."
She agreed to send £9,600 in cash to pay hospital bills. Then he asked for more - £22,000 to pay import taxes for his "business".
"You're like a gambler," sighs Brenda. "Once you've sent that first amount of money… that's the biggest mistake."
In the end, with bogus stories of import tax, export duty and travel costs, supported by faked invoices and worthless promissory notes, "Bradford" managed to fleece Brenda for nearly £57,000.
"It's a huge amount," she says, ruefully. "By the end I wasn't sleeping, I was in shreds - stressed about the whole thing.
"I find it very embarrassing; I have been humiliated enormously."
Brenda says the hardest part was telling her friends and family - and says she's now speaking out in an effort to help others avoid the traps she fell into.
"However strong and sensible you are, you have an Achilles' heel," she warns.
"If I can be scammed then I believe anybody can be scammed. These people are so subtle and so conniving. The story was very well developed - it covered all kinds of small details.
"He (Bradford) played on my strengths as well as my weaknesses. He sussed out that I am quite good at organising things and taking responsibility.
"In the end I was painted as the only person who could possibly help in the whole wide world."