Cornwall beach demo against Whitsand Bay silt dumping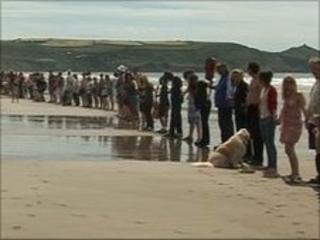 Campaigners have called for an end to the dumping of dredged waste at Whitsand Bay in Cornwall.
Millions of tonnes of silt from the nearby River Tamar have been dumped in Whitsand Bay over the years.
About 200 local people concerned about the damage it is causing to the environment, held a demonstration on the beach.
Much of the silt comes from dredging channels in the River Tamar for warships at Devonport docks.
Campaign leader Deb Hoskin said: "I'm deeply touched by the turnout.
"Everyone here cares so deeply about the wildlife.
"It's our beautiful home, please stop dumping on it.
"The seabed has been devastated."
Four companies hold licences to dump dredged silt in the bay, including the Ministry of Defence (MoD).
The Marine Management Organisation (MMO) is leading an investigation, announced earlier this month, into the dumping.
The MoD would not comment on the investigation, but said it used an approved disposal site under licence.
Scientists working for the Department for Environment, Food and Rural Affairs in 2005, said the site was acceptable providing material was not contaminated and disposal happened on the outer parts of the site.