Five Scots a week die while on holiday in Spain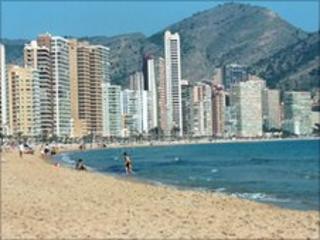 Five Scots are dying on average in Spain each week, a funeral director has revealed.
Glasgow-based Frank Lynch, who repatriates the majority of the bodies, said almost all die in the resort of Benidorm.
He blamed a combination of searing temperatures and cold seas for the deaths.
He said that about 400 bodies a year are returned to Scotland from locations including Portugal and Turkey.
Mr Lynch said: "On average, we deal with about five a week.
"In Benidorm, a vast number of Scottish people have bought houses and it's obviously a popular holiday resort.
"They soak up the sun and then jump into the sea, which can lead to heart attacks in some cases."
Mr Lynch warned that it costs about £4,500 to repatriate a body and urged holiday-makers to take out insurance.
He added: "People don't realise the number's so high.
"It's really important to take out adequate insurance and take care in the sun."